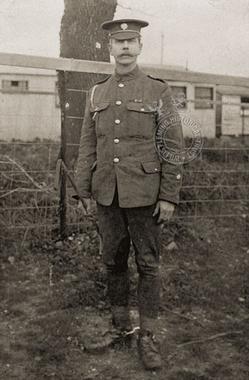 James Gunn at Swaythling. Photo courtesy of Barry Carpenter.
James Gunn was a local man, born in South Stoneham in 1867. Aged eighteen, he enlisted in 11th Prince Albert's Own Hussars in 1884, and went on to serve overseas in Africa, India, and Egypt. He was discharged from service in 1905.
On 7 September 1914, he re-enlisted in the Special Reserve of his old regiment, the 11th Hussars. By this time he was 47, married, and had a young family. In May 1915, he was posted to Swaythling Remount Depot, where he remained for the rest of the war, rising to the rank of Squadron Sergeant Major.
When James was demobilized in 1919, he was commended for the "good control of his men and thorough knowledge of the care and management of horses".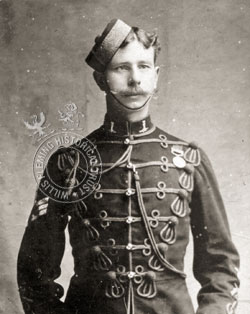 James Gunn during his first period of service.
Photos and information courtesy of Barry Carpenter.