Major Fisher was a retired Territorial Major who commanded a squadron at the Remount Depot. The photograph below was taken at the Depot's K Squadron at North Camp.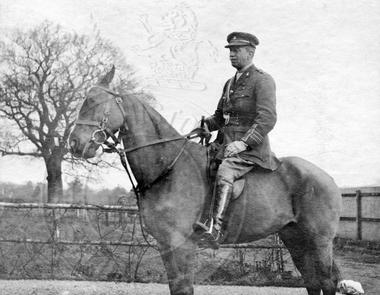 Ida Willis Fleming recalled: "Major Fisher was a gallant old man who was used to spending his winters on the Riviera as he was far from fit, so his war effort cost him much. Several of them from the Remount Depot used to come to lunch on Sundays. ... Major Fisher was a good judge of a horse and he usually got a good pair to drive himself; two spanking bay mares I remember. He got a phaeton from Bert Andrews in Southampton. He took me to Southampton sometimes and let me drive. Dad did not know and it was fun, but seldom possible."
The photograph below shows Major Fisher (right) at North Stoneham House with John E A Willis Fleming (center) and Ida Willis Fleming (left).